Brian Coombs: Mens et Manus at MIT
By Brian Coombs
September 08, 2015
Launch just ended, but the memories refuse to fade.  My most prominent memories stem from the challenging learning experience of designing and implementing our hardware product. I co-founded Vintage Vitality, a health wearable company dedicated to connecting ailing loved ones to their family and keeping them safe. Heading into the development phase, my group was worried about our lack of experience in prototyping, particularly electrical hardware. I became team lead for product development, but my experience was limited to architectural CAD (computer aided design), and I had never done any electrical engineering before. Luckily resources abound at Launch. I was assisted personally by MIT professors and students:
Marty Culpepper, MIT Maker Czar and Mechanical Engineering professor, scheduled times with all the hardware teams, and advised us on silicone molding and potential difficulties inherent in the manufacturing phase.
Entrepreneurs at the Global Founders Skills Accelerator plus EIRs (Entrepreneurs in Residence) and other staff at the Martin Trust Center for MIT Entrepreneurship provided assistance with anything from wiring to 1-on-1 learning about Arduino to 3D printing.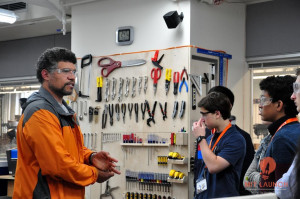 There was never a dull step along the way. Within the Trust Center's Protoworks, every tool was specific to what small companies like us needed to bring our ideas onto the workbench of reality.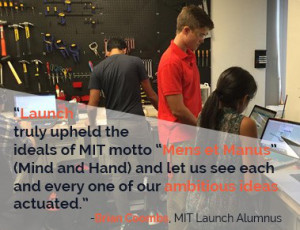 In designing our health band, there were several steps, each more challenging and exciting than the last. Starting from the basis of our broadest, most all-inclusive goals, we bounced tens, if not hundreds of feature ideas off of Launch team and students. Then, introduced to Protoworks the week after teams were formed, we immediately set to work bringing the idea to reality, and settled on Arduino for the micro-controller base behind our watch. From blood pressure sensors to chest-based activity sensors, we were able to test out the feasibility of our ideas and get feedback. Launch truly upheld the ideals of MIT motto of "Mens et Manus" (Mind and Hand) and let us see each and every one of our ambitious ideas actuated. With practice under our belts, we quickly built the device, and tested its heart-rate measuring, and pill reminding capabilities. Having been able to build in parallel with our team's app developer, Ellek Linton, both the hardware and software sides of the product came to fruition at the same time. From there, Launch's MIT connections and powerful reputation helped us understand our own device more deeply. When we ran into problems understanding miniaturization and future waterproofing, we had a 2-week running conversation with the engineering department at Jawbone, a leading fitness wearable company. The opportunities for achievement were clear, and we were continually connected with leading companies in the Boston metropolitan area to learn how to see our product to fruition. All of this – as high school students. Post-Launch, my interest in hardware development has not faded. Previously I had ignored the 3D printers at my school, but now they're a great source of fascination. I have already gone in before school starts to discuss with the engineering club 3D printing our own drone, and I can't wait to experiment with wiring an Arduino and motor to my blinds to more entrepreneurially wake myself up in the morning. J Launch inspires not only variable entrepreneurial passion but a multitude of other passions, like hardware design, enabling students to discover something new in an innovative environment.