What Will You Launch?: My Entrepreneur Story with LaunchX Clubs
By Divya Pinnaka
October 25, 2017
This article by LaunchX clubs president Divya Pinnaka of her entrepreneur story first appeared in Medium.
What if you could change the world — in high school? LaunchX doesn't just ask you, they equip you with the skills, they support you, then tell you to do it. It's not about waiting to make a positive impact anymore — it's about putting yourself out there and making a difference — now.
LaunchX aims to transform the way high schoolers learn. The world becomes your classroom and your peers become your favorite teachers. The LaunchX clubs program consists of a year long curriculum designed to make you think like an entrepreneur — to be an entrepreneur. The world is now your playing field. A derivative of the LaunchX summer program, LaunchX Clubs aims to empower anyone, anywhere to pursue entrepreneurship.
Last year, I was fortunate to embark on an entrepreneurial journey with 18,000 other young entrepreneurs from 550 schools in over 50 countries (see some of the countries with LaunchX clubs, below)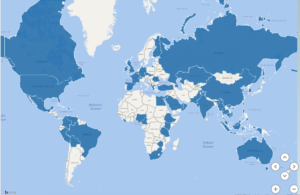 Each year, LaunchX unveils a new theme for the clubs program. Last year's theme was education, resulting in a vast range of startups, such as an online college counseling platform, an unbiased news website, STEM kits for high school classes, recycling using gamification, a college textbook database, and many more. This year's theme is environmental sustainability. Teams have to ideate solutions around issues such as energy, food and agriculture, waste reduction, and reducing our carbon footprint.
This year's theme is environmental sustainability. Teams will have to ideate solutions around issues such as energy, food and agriculture, waste reduction, and reducing our carbon footprint.
The LaunchX Timeline
The clubs program commences in September and concludes in April. In August, the club president (typically the founder of the club) fills out an application to start a club in his or her own school. LaunchX then reviews the applications and selects presidents who are capable of championing the LaunchX curriculum and leading a club in his or her school.
Typically, the applications are reviewed based on these criteria:
An organized and strategically built leadership team. Have you chosen the right people to lead with you? (eg -Marketing Lead, Education Lead, Finance Lead)
Examples of resiliency
Grit (do you have what it takes to lead other young entrepreneurs?)
A strong entrepreneurial spirit (are you a self-starter?)
If you meet this criteria — congratulations — you are a leader amoung other young leaders!
Once the president is selected, it is up to him or her to recruit an executive team to help oversee the program. The school champion is then tasked with recruiting his or her peers to participate in the year long program. Once members are finalized, it's time to embark on the entrepreneurial journey, together. Schools are provided lesson plans, powerpoints and additional curricular support to guide teams. Launch's curriculum is derived primarily from the Disciplined Entrepreneurship framework, a framework designed by MIT Professor Bill Aulet. In addition, curriculum is also a derivative of Harvard Business School and the MIT Sloan School of Management.
In addition to the curricular support, each team will receive a virtual mentor to guide them through the entrepreneurial process. The mentors include industry experts, business professionals, and entrepreneurs. Last year, my mentor was Mr.Tom Henry, MIT's Philanthropic adviser. Teams typically meet with their mentor at their convenience but the recommended is once a month.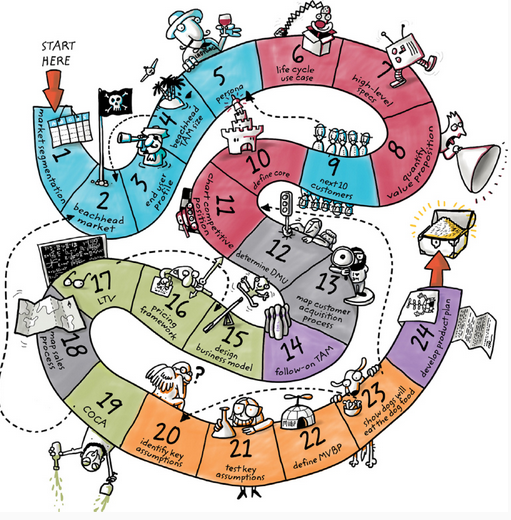 Bill Aulet's Disciplined Entrepreneurship Framework
Launch is not a business plan contest. The aim is to build a real startup from the ground up- to solve a real need in a differentiated way. The focus is on taking action, learning from results, and making changes to improve your chances of success. You will conduct real market research with real people. One of my former Launch Clubs teams went to a local Starbucks after school, and interviewed strangers for an hour — generating data that not only would help them refine their idea, but would also set the stage for understanding their customer.
Launch is not a business plan contest. The aim build a real startup from the ground up — to solve a real need in a differentiated way.

October is when it all kicks off. Students (cofounders) form teams of 3–6 students, and get in high gear. This is when teams brainstorm and ideate x100. Mid November is when elevator pitches are due, your first real assignment consisting of a 90 second video of your team "pitching" your idea. Over the next few weeks, The LaunchX team reviews submissions and provides feedback. This is the first "grade" that plays a factor into being selected to pitch at MIT.
November through December, you will cover topics such as competitive differentiation, framing your unique value proposition, creating a minimum viable product, branding, and customer acquisition.
The Startup Curve
Going from 0–100
January to March is intense. Teams will have created their minimum viable products and are now out to refine their business model, and work on finances. January consists of learning revenue models, finances, revenue and cost projections. February is spent working on growth and pitching. You've come this far — now it's time to start thinking about what your company means to you, why you did what you did, and how you're going to convey that to the world.
March *gasp* is when final pitches are due. Six months of hard work culminates in a 5 minute video of your team pitching your startup. This is submitted to the LaunchX team, who ultimately selects finalist teams to present at Demo Day, on the MIT Campus in April.
LaunchX Clubs Demo Day at MIT
CONGRATULATIONS! It all came down to this moment — and you made it. Now what?
Finalist teams fly in from around the world to pitch their ideas in Boston, Massachusetts on the MIT campus.
Last year, I was fortunate to be selected as a finalist and experience Demo Day along with finalist teams from over 10 different countries.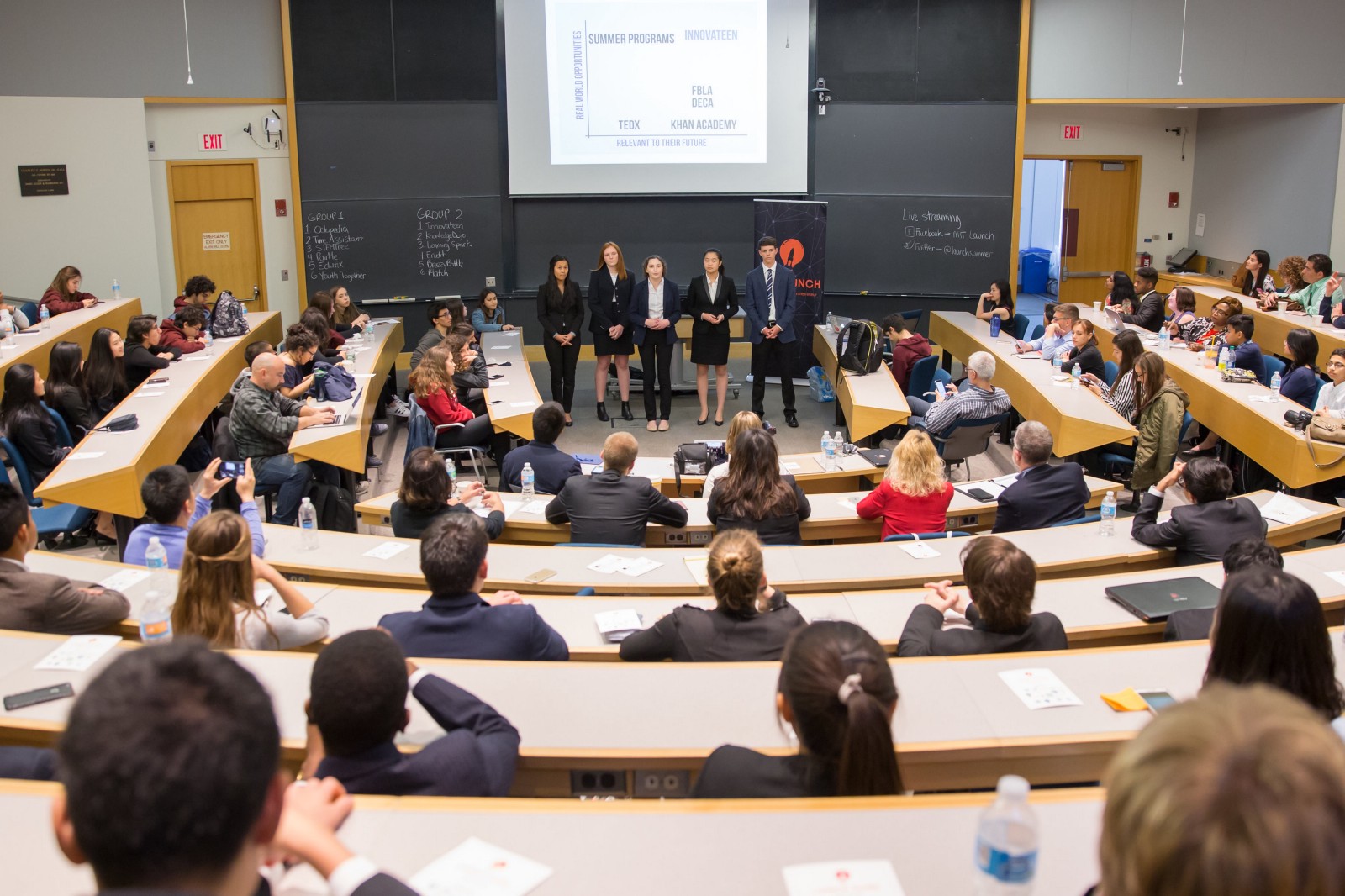 A team pitching their product at 2017 Demo Day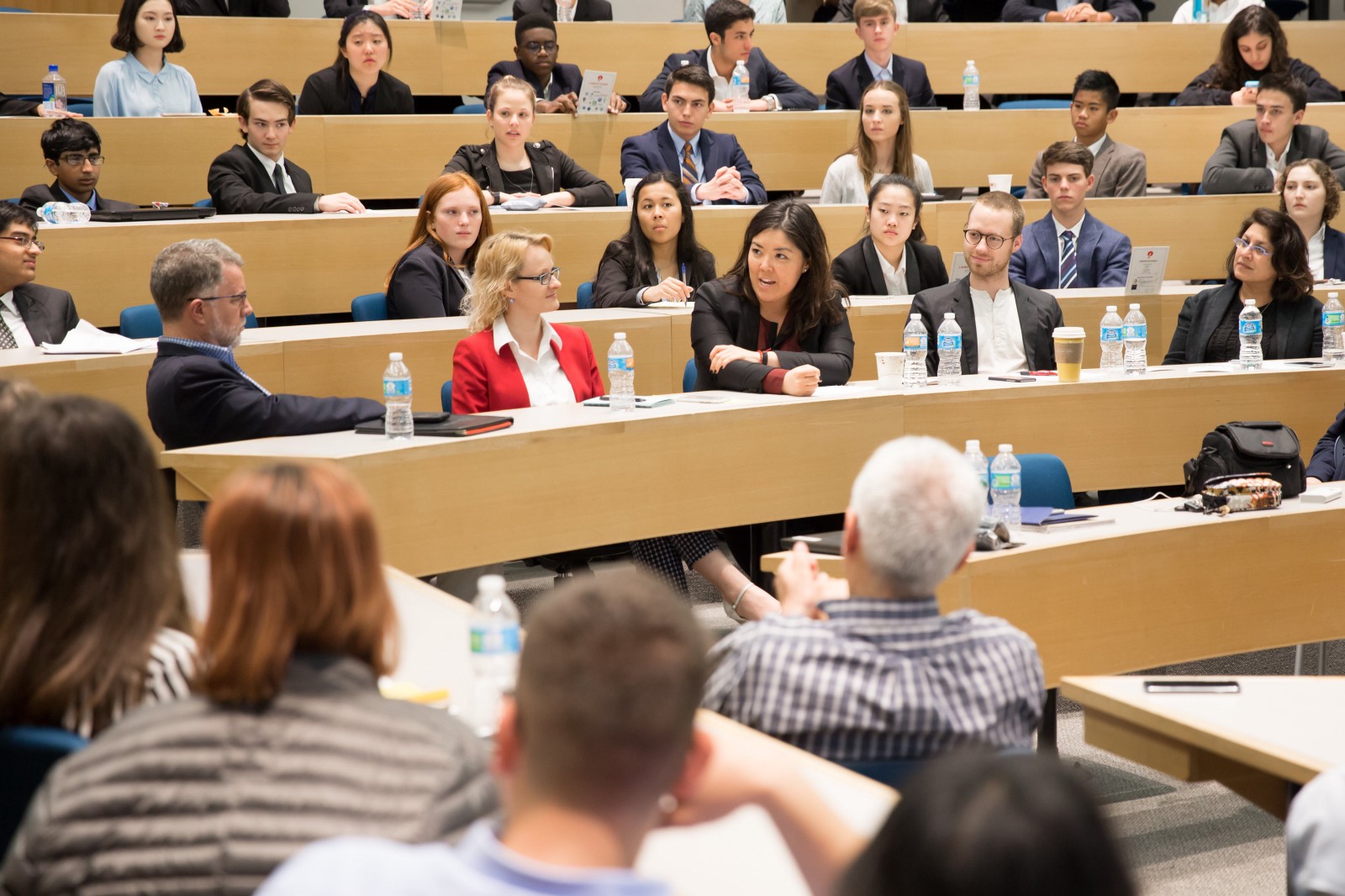 The 2017 Judges Panel included education experts like Sujata Bhatt — managing partner of innovation at Boston Public Schools, a professor from Harvard Business School and Harvard Kennedy School, Simone LaPray- Program manager at TIE Boston, and Ben Bungert- Program & Marketing Manager at LearnLaunchX in Boston.
After team pitches, students gathered for lunch and a guest speaker series. The 2017 Guest speakers included MIT alumni entrepreneurs.
I also got to meet LaunchX's founder and entrepreneurial mastermind, Ms.Laurie Stach! After majoring in Mechanical Engineering at MIT, securing an MBA from Harvard Business School, and working in the Boston Consulting group, Laurie decided to found LaunchX. As a high school student, everyone always told her "you'll amount to something one day" but then "one day" came, she got into the career world, and was defeated. She wanted to help students empower themselves, prototype their own careers, and make the changes they wanted to see in the world. While running Launch , Laurie also guest lectures at the MIT Sloan School, and manages the ProtoWorks maker space at MIT.
Overall, Launch has been an incredible experience for me and I hope that it will have a similar positive impact on you. Entrepreneurship is EntreprenYOURship; you get what you put in, and I genuinely hope you put in your best effort. Now that I've told you my story, It's time for you to tell me yours. #WhatWillYouLaunch?