Entrepreneurship Builds Self-Confidence
It might sound counterintuitive – when most people think of entrepreneurship they think of the many failures that come along with starting a business and how demoralizing those failures can be.  It requires entrepreneurial courage to take initiative, problem solve, and come out the other end of these challenges and realize that things will be okay one way or another. While many people live with near constant anxiety and fear of potential fear, entrepreneurs can build a sense of control and positive sense of self through their work.
This isn't to say that this process happens overnight, or that it is ever truly done.  There are lots of moments of doubt and uncertainty along the journey of every entrepreneur! In assessing our incoming class of young entrepreneurs, we've taken a look to see the correlations between their sense of self as an entrepreneur and other factors related to their feelings of control, feelings about themselves, and comfort with ambiguity.
You'll see in this assessment that the students that have considered themselves entrepreneurs for longer rate themselves higher in these dimensions, showing hat there is a growth along these dimensions as you invest time in the startup world and learn through failures. So if you look at this assessment and see areas you want to improve in, remember that the longer you embrace an entrepreneurial mindset, the more confidence you will gain.
As we prepare to kick off the program next week, we are also intrigued by the skills these young entrepreneurs hope to grow this during and after this summer's program, so scroll down to the end of the post for those fun tidbits!
You can use the following guide in the charts below to note the young entrepreneurs who rated themselves as high in entrepreneurial fit and practicing entrepreneurship for several years, just in more recent years, or those who rated themselves low in entrepreneurial fit.
Our students who consider themselves entrepreneurs and who have been practicing it for longer feel more in control of how their futures will turn out, and feel better about themselves.
These highly entrepreneurial students also consider themselves more action-oriented and more comfortable taking risks.
Further, these students like learning and consider themselves go-getters.
Students indicated whether they had any friends, family, or anyone else in their lives who were entrepreneurs, so we were curious to see any correlation between entrepreneurial confidence and having relationships with other entrepreneurs.  There was no correlation!  It does not matter to look just at immediate family members, just friends, or any type of affiliation of entrepreneurial influence one might have in your life.  This means that everyone has the same potential for entrepreneurship, and can also have the same potential for growth, given the right open-minded approach.
Our students are beginning that open-minded adventure in the coming week, and are eager to learn many new skills!  Here are the things they are most excited to learn:
They were also asked what they are most looking forward to, and here is a word cloud generated from their responses: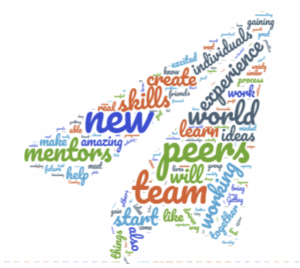 We're excited to support these students as they launch their startups this summer!