How Nakul Goel Became a High School Entrepreneur
By Nakul Goel
December 16, 2016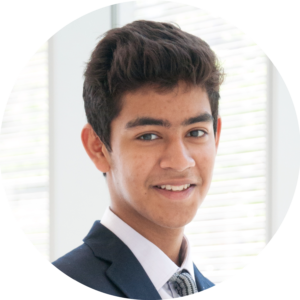 I remember finding out about Launch two hours before the application deadline was due. The minute I opened the Launch website, there was a picture that gave me goosebumps.
In the picture high school students were studying in an MIT classroom and it said "This could be you."  I was so excited and nervous, I was barely able to type. I spent the next few weeks searching Launch alumni companies and seeing who worked on them, and after a comprehensive research, I knew I was going to receive a rejection letter. But a couple weeks after applying, I got my acceptance letter from Launch.
July 7th is the most special date I will ever remember because it was the day I arrived at the MIT dorms. I met 69 of the most amazing teenagers on the planet. Everyone talked about their startups, what their home towns were like, etc.. I knew then that the following month was going to be extraordinary. The very same day, Launch organized a welcome dinner for us at the MIT Media Lab. Ms. Laurie talked about all the amazing kids we had sitting among us and told us that Launch was going to be tough. In the following month I realized she was right, Launch was by far the toughest thing I have ever done, but I will be talking more about that later.
The first day in the classroom was definitely exciting. Everything I had ever done in my life until then was so that I could sit in an MIT classroom and it was about to happen. Our first speaker was an 18-year-old entrepreneur who was about to be the youngest professor at Stanford. All through my life I have heard people say age doesn't matter, but hearing a successful teen entrepreneur say that, was worlds apart. I remember having goosebumps throughout his 15-minute lecture. Soon we had our teams and our ideas and it was time to start working on our startup.
One thing about Launch is that it is difficult. The classes start at 8AM and end at 6PM every day for the first week and you have to work on your startups after that. For example, if we had a class about market research, we would have to do market research for our startups after class that day. So all 70 of us would actually be looking for people who fit our customer persona in the city of Boston and we would be taking long interviews so that we could understand if the problem we think exists, really exists.
You might ask about the dorm life at Launch. My favorite part about the dorms was the common rooms with the whiteboards where we debated about ideas related to our companies. We also met with our counselors at 11PM every night and talked about life at Launch. I saw most people working in the common areas into the night, sending emails, trying to get surveys out, coding, and making UI.
The environment at Launch is so positive that you never think about taking a break from work. However, Launch gave us breaks I will never forget. A baseball match, ice cream party, 4th of July fireworks and a Cambridge dance party are just some of the fun things we did. Launch organized barbecues and frisbee competitions so that we could take a break and enjoy time with our teammates and other Launchies.
But the most special thing about Launch is the people. Seeing teenagers like Rodrigo being so passionate about energy, Jason's teams being passionate about giving people a voice, people like Sanya trying to get clean water to people, it was incredibly inspiring. Everyone at Launch worked so hard- nonstop- and made sure that their startups would have something to show for themselves by the end of the month.
I started two new companies with Launch alumni and unlike before, now I know what to do at each step of the way. I have a Launch Club now where I am helping 100 high school students start their own companies. My old organization, which had tons of problems before Launch, is doing now thriving. The mentors I met at Launch still guide me and the alumni are extremely helpful. After Launch life is definitely different and I am grateful that I got to be a part of it.