Justin Yu Starts VR Headset Company
This article by Elizabeth Barcelos first appeared in the Los Altos Town Crier.
While some people spent time this summer trying to find the right pair of sunglasses, Justin Yu, a senior at Los Altos High School, started his own company.
Yu's company, Arise, created a customizable virtual-reality headset for the visually impaired at MIT Launch, a four-week residential program designed to teach entrepreneurship.
"The idea was to come together with like-minded individuals from around the globe and create companies," said Yu, who participates in Los Altos Hacks and Los Altos Robotics.
MIT Launch drew students from as far away as Pakistan, Zimbabwe and Shanghai. Yu's teammates hailed from New Jersey and Slovenia.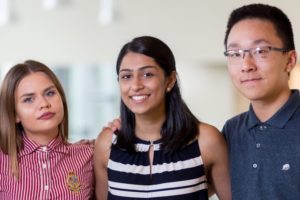 With only four weeks to work, students weren't expected to have a perfectly completed product. The emphasis was on teaching them the process of progressing from an idea to their own business.
"Our final end goal was to have VR headsets that are customizable," Yu said of the Arise team. "Our target group is low-vision people who can't correct their vision to 20/20. What these VR lenses allow them to do is augment their vision with our software. We can zoom in, zoom out and create custom filters."
The filters include switching black text on white background to white text on black background, making it easier for people with impaired vision to read.
While Yu is no stranger to software engineering, MIT Launch expanded the possibilities for how he plans to pursue his future career. While he'd long considered working for a company like Google Inc. his goal, he's rethinking his options now.
"One thing that really shocked me is how many teens are already starting companies," he said. "But here we are in the Silicon Valley, where all the startups are, and there's very little attention given to entrepreneurship in schools. Why in the middle of Silicon Valley are we neglecting this?"
Related articles: