Social Events at LaunchX Virtual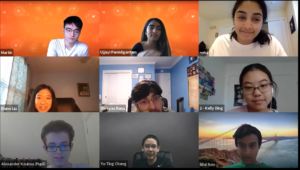 At first, we were apprehensive about LaunchX turning virtual because we knew we would be missing out on seeing and hanging out with our fellow Launchies in person. However, we were excited to see the Week 1 Activity List as there were so many opportunities to meet people from across the entire program! Here are some of the activities we participated in and our experiences with them (in no particular order).
Movie Night
Movie night was a blast. Watching "Spiderman Far From Home" with some awesome people was great, despite its 1 fps Zoom screen-sharing quality. The interns helped make the event super casual– being able to react to a movie together with Zoom chat comments hyped up the entire experience.
8-frozen-Tom-Hollands/10 would recommend
Game Night
In the beginning, we were sad to hear that such a fun event would only be for people with Minecraft (rip the pocket edition players). Luckily, we heard that the event would include Shellshock and Skribbl.io as well, so we hopped on. We can't speak for the other game breakout rooms, but Skribbl.io was a party and a half. It was a fun night filled with some laughably terrible (and some not so terrible) drawings.
9.5-misspelled-guesses/10 would recommend.
Rock Paper Scissors Tournament

By-far the most suspense-filled event was the Rock Paper Scissors Tournament. Tens of Launchies went head-to-head, competing for the coveted $20 gift card for their team. The first round was chaotic at best. People's throws were suspiciously laggy, and many hopes and dreams were crushed as names were crossed off the bracket. This progressed until the last round, where two people faced each other for $20. After a best of 5, a victor was crowned! Or were they? Last-minute, there was a twist! The victor could rematch for double or nothing. Tensions were high as the victor contemplated taking the risk and eventually accepted the challenge. We all sat in silence as we waited to see who was going to win the $40. Plot untwist, the same victor won. Overall, this tournament was ten times more competitive than the Hunger Games, and much more fun to watch.
100-sus-rounds/10 would recommend.
Cynthia Zhang added, "One of the most valuable aspects of the entire virtual LaunchX experience is undoubtedly its many long and diverse list of social activities. After a morning of classes and electives, and a busy afternoon of team meetings, each LaunchX student can look forward to a social event in the evening where we have the opportunity to unwind, socialize and get to know one another in a more personal setting. Throughout the past six weeks, I participated in many of these social events, from game and movie nights, to Shark Tank discussion groups, to talent shows, and even yoga "de-stressers". Each activity attracted its own unique group of students, and that was what I found was most exciting for me; each time I joined the Zoom call for an activity, it was always wonderful to see all the new faces on screen– especially those outside of my team and cohort who did not frequent my regular schedule of Zoom classes and meetings. With each social event I participated in, I always left the meeting with new connections and valuable relationships created that I know will continue past these six weeks. In the end, the most valuable aspect of the LaunchX social events lies in the valuable opportunity it offers to students: a chance for individuals from all corners of the world to come together, and connect with one another in an enjoyable and unforgettable way."
Despite being virtual, LaunchX was so fun in large part thanks to the social events we had sprinkled throughout the six weeks. The above are just a few of the fun, with others being a talent show, karaoke, and more.  After all, the reason why LaunchX is such a great experience is that you meet such phenomenal people along the way!